For older homeowners looking to buy a new home, doing so without increasing expenses and still allowing them to age in place can be tricky.
The Home Equity Conversion Mortgage for Purchase (HECM for Purchase) program allows those age 62+ to buy a new home without making monthly payments, giving them more breathing room in their budget.
In addition, the equity from their old home can be used as a down payment on the new home, further reducing their out-of-pocket expenses.
For those who want to relocate to their favorite retirement spot or downsize to a home that better fits their needs, the HECM for Purchase can make those dreams a reality.
What is a HECM Reverse Mortgage for Purchase?
A HECM for purchase is a Federal Housing Administration (FHA)-insured home loan that allows seniors to buy a new primary residence without the cash flow burden of a monthly mortgage payment. It's also a great option for would be cash buyers, allowing them to preserve more money in their retirement portfolio.
Who is an HECM for Purchase for?
A HECM for purchase is good for buyers 62+ in the following categories:
Don't want to take out a 15/20/30-year mortgage
A HECM reverse mortgage for purchase is designed specifically for homeowners 62+ and provides many benefits that a traditional mortgages simply cannot.
Want to eliminate monthly mortgage payments
Buy a new home without making monthly mortgage payments.
On a fixed income
Those on a fixed income may have an easier time qualifying for a HECM for purchase loan due to less stringent income requirements as opposed to a traditional mortgage.
Wish to age in place
Those who want to retire to a new home that is more accessible or easier to maintain.
Free up cash
Homeowners 62+ who need to free up cash that can be used for other purposes, such as home improvements, long-term care costs, medical expenses or living expenses.
How does a HECM reverse mortgage work?
A HECM for purchase combines the benefits of a traditional reverse mortgage and the equity from the sale of your previous home or other savings and assets to buy your next primary home in one single transaction.
You can use a HECM for purchase to buy a one-family home, a condo unit approved by the Department of Housing and Urban Development (HUD), or a manufactured home that meets HUD standards.
HECM for Purchase requirements
In order to qualify for a HECM for purchase, borrowers must:
Be at least 62 years old
Occupy the home as their principal residence
Receive reverse mortgage counseling from a HUD-approved agency
Be a U.S. citizen or permanent resident
Meet minimum income and credit qualifications
HECM for Purchase costs
There are a few costs associated with taking out a HECM for purchase, such as:
An appraisal fee to determine the value of your new home
A reverse mortgage loan origination fee
A mortgage insurance premium
Closing costs
Down payment requirements
To qualify for a HECM Reverse for Purchase loan, you will need roughly a 50 percent down payment of the new home's purchase price.
This can come from the proceeds of the sale of your old home, savings, gifts or other financial resources.
Borrower obligations
The reverse mortgage borrowers will still be required to:
Pay property taxes
Homeowners insurance
Maintain the home in good condition and
Mortgage insurance premiums
When is the HECM for Purchase Due?
The HECM for purchase becomes due when the last surviving borrower dies, moves out of the home permanently, or fails to meet the obligations of the loan.
At that time, the borrower or their heirs can choose to sell the home to repay the loan or keep the home and pay off the loan balance with other assets.
Reverse mortgages are non-recourse loans, meaning that the borrower or their heirs will never owe more than the home's value.
HECM for Purchase Example
Tom (67) and Barb (65) live in a three-story home that no longer works for their lifestyle as they get older.
They wish to purchase a ranch-style home, so everything is on one floor.
Their current home's value is $400,000, and they owe $100,000.
Their current monthly mortgage payment is $1,100 per month plus additional ongoing expenses like paying property taxes and maintenance.
Tom and Barb found a new home for $300,000.
They sell their current home and get $300,000.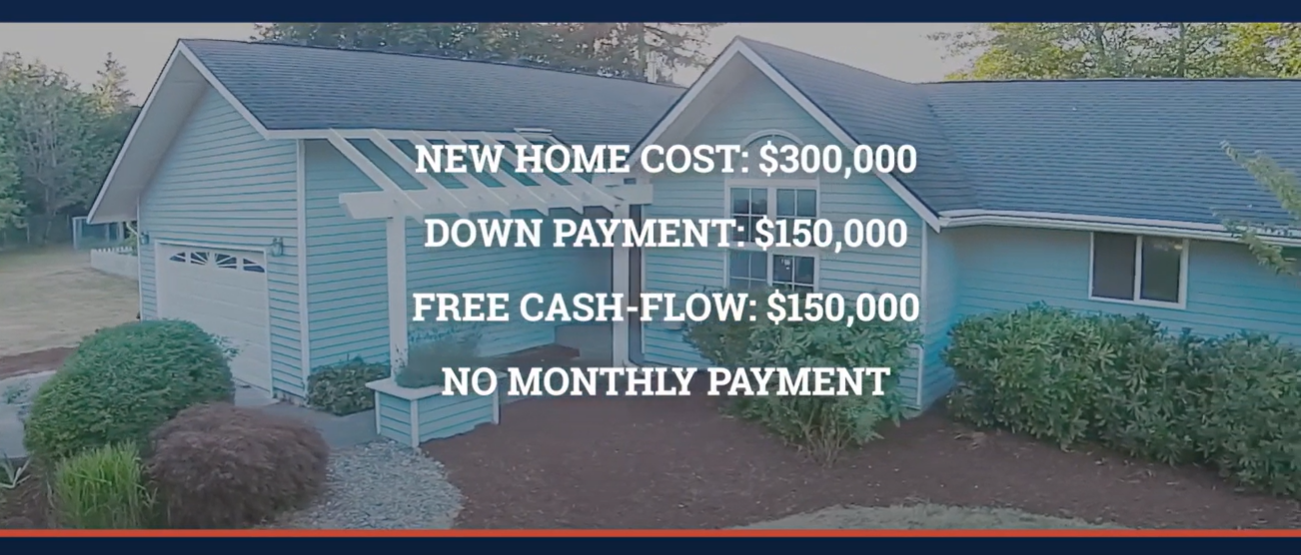 Instead of using all the loan proceeds from the sale to buy a new home, they used a HECM purchase reverse mortgage.
Now, they can put down $150,000, keep $150,000 and eliminate their monthly mortgage payment.
How to Get Started With A Home Equity Conversion Mortgage for Purchase?
Contact a dedicated reverse mortgage lender if you're interested in learning more about HECM for purchase loans and whether it's the right fit for you.
By using a dedicated reverse mortgage originator, they offer the best holistic view of how this type of loan could work for your unique retirement goals.
They will be able to answer all your questions, from the current interest rate, to how to structure the loan and whether you qualify.